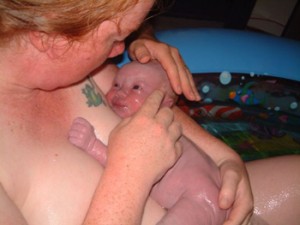 It was only when I was pregnant that I realised the value of having true continuity of care and carer for pregnancy, birth and afterwards. At present, the only way I can provide that level of service to other women is to practice outside the NHS. As an independent midwife, I can take the time to get to know a woman and her family.
I no longer provide full midwifery care packages, but can provide extra antenatal and/or postnatal care alongside your NHS providers:
All midwifery antenatal care monthly till 28 weeks, fortnightly till 36 weeks and then weekly till birth. I would usually visit you at home for approx 1 hour per visit.
In addition to the antenatal checks, we will have time to discuss how you're feeling, any apprehension you might have about the pregnancy or birth, the practicalities of a homebirth and how to cope with labour. I believe that having someone to talk to and ask any question you might have is essential to your care.
Postnatal care till 4 weeks after the birth. Usually daily till day 5 then at intervals till day 28. Health visitor care would normally also commence after day 10.
Use of equipment and loan of books and DVDs as required.
You are still entitled to NHS screening tests. I advise clients to book with their local hospital to access them. Sometimes you may prefer to access private blood tests which can be arranged at extra cost.
Information about Professional Indemnity Insurance for Independent Midwives